5 Tips for Choosing an Office Chair
by Wade Larkin on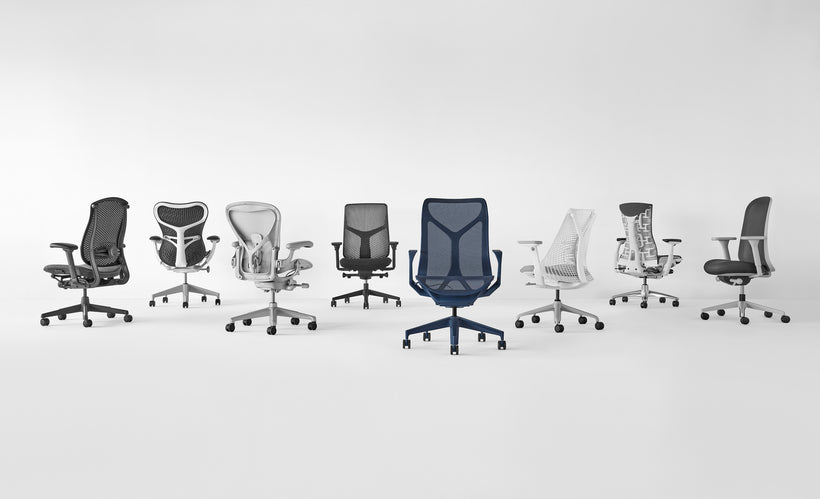 Choosing an office chair sounds simple enough, and yet, the majority of desk workers rarely get it right. If you're to be spending up to 8 hours seated at your desk (which many of us are), it pays to invest in an office chair that is going to provide back, neck and shoulder support while also benefiting your overall health.
According to Safe Work Australia, injury and musculoskeletal disorders are the largest contributors for work-related injury claims across the nation. A significant number of these claims are reported by office and desk professionals who are seated all day in either poor seated positions or low-quality office furniture. In order to avoid repetitive muscle strain office workers need to maintain a good sitting posture during work.; keeping a straight back and avoiding slouching. Choosing a high-quality office chair that suits your individual ergonomics is key when it comes to creating a productive and healthy workspace.
How to Choose an Office Chair
Here are 5 Tips to help you choose your perfect office chair match:
1. Choose a Height Adjustable Chair
When choosing an office chair, you should be thinking about your height and ultimately, considering a height-adjustable office chair. For optimal comfort and spine alignment, when seated, your thighs should be horizontal to the floor. It would be impossible to achieve this positioning for every single office worker, without the customisation of a height-adjustable office chair.
2. Seek Lumbar Support 
A contoured, supportive and cushioned office chair will provide adequate lumbar support throughout the working day. When choosing an office chair, it's important that you place lumbar support high on the list of what you want to get out of it. If you're going to be spending all day at your desk, you need to take care of your lower back, neck and shoulders with optimal lumbar support.
3. Choose Breathable Materials
Finding and choosing the right office chair can also be influenced by the materials used to manufacture the chair. Consider the materials that your back is against right now – are they breathable, cushioning and padded? Your office chair should allow for airflow, be comfortable and not agitate your skin. The fabric of your office chair should be breathable, preventing the chair and your body from overheating and becoming uncomfortable while seated all day. At NPS Commercial, our most popular and loved office chairs utilise high-quality mesh materials for ultimate comfort.
4. Get A Chair with Armrests
When choosing an office chair, it's important to keep coming back to the considerations that make a supportive, comfortable and healthy seated position. Experts suggest that office workers need to keep their arms aligned at a ninety-degree angle, to avoid strain. Armrests provide space for you to rest your forearms and relieve strain on wrists and shoulder. While not absolutely crucial, armrests can be used for light support throughout the day, providing room for additional comfort while seated at your desk.
5. Find A Chair that You Can Adjust
Finally, it's important to choose an office chair that can be tailored to you. Ergonomic and modern office chairs should have a selection of adjustments that you can make, to tailor the height, angle, support and lumbar cushioning to suit the various needs of your body throughout the day. Your office chair should be entirely tailored to your working style, your back requirements and your body. 
When choosing your office chair, remember that not all office workers are the same, and many of us require a variety of unique customisations while working at a desk. So, why should our chairs be identical? Choose the right office chair by finding an office chair that is ergonomic, adjustable and entirely customisable for you. 
NPS Commercial Furniture Office Chairs
If you're looking to choose an office chair that will provide optimal support for years to come, you've come to the right place. Supplying office chairs and commercial seating for more than 50 years, NPS Commercial Furniture are Townsville's leading office furniture retailer. Whether you're looking for an ergonomic office chair or an entire commercial office fit-out, we've got you covered at NPS Commercial Furniture. Our team will supply and install furniture of the highest functionality and quality to meet the unique demands of your working environment.
As well as office task chairs, NPS Commercial Furniture also provide quality meeting chairs, executive chairs, drafting chairs, visitor chairs, stools, training chairs, auditorium seating, armchairs, lounge chairs, modular seating, ottomans, hospitality seating, education seating, health seating, outdoor seating and dining chairs. Having trouble finding what you're looking for or are still not sure how to choose an office chair? Reach out to our friendly furniture specialists, and we'll help you find your perfect office chair today.