Auditorium Seating Solutions
by Wade Larkin on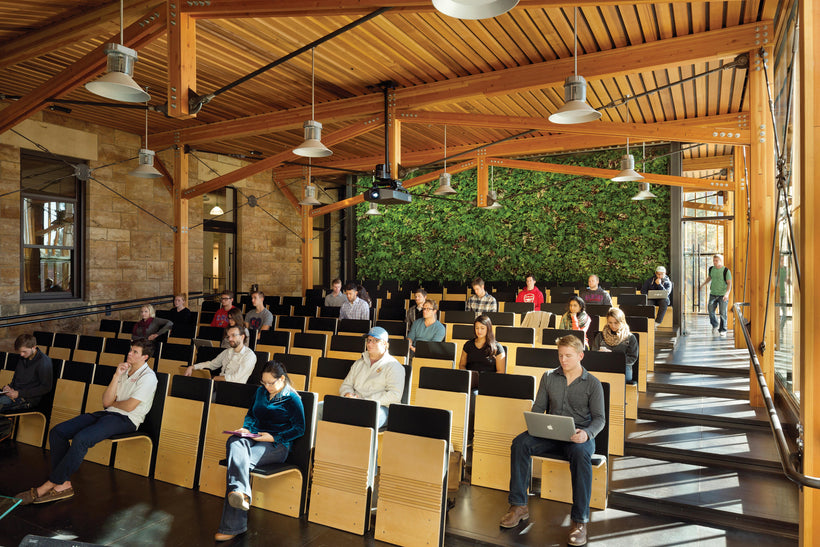 Auditorium seating solutions form the backbone of lecture theatres, school halls and concert venues across the country and play a vital role in entertaining, educating, and inspiring people from all walks of life.
Tiered seating solutions that facilitate an appropriate seating plan and a comfortable posture enhance the experience of all attendees. If you're looking for exceptional auditorium or theatre seating, look no further than NPS Commercial Furniture. 
Located in North Queensland, NPS Commercial Furniture has the necessary industry knowledge, and products to install a range of seating solutions guaranteed to improve the comfort and functionality of any theatre space. With over 50 years' experience we've gained a reputation for delivering high-quality solutions along with professional customer service.
Let's explore the importance of seating in auditorium areas and how you can make choices that prioritise posture, versatility, and effective seating plans.
What Is Auditorium Style Seating?
Auditorium seating traditionally takes the form of built-in seats or rows of chairs that face toward a single point of focus, typically a professional stage or a lecture podium. Generally utilised in schools, universities, large stadiums, and performing arts venues, well thought out and quality auditorium seating products can make all the difference in the way an audience experiences a performance or learns in these spaces.
Why is Auditorium Style Seating Important?
Seating Plans
Recent studies have found that where a student sits in a lecture theatre or classroom has a marked effect on both their behaviour and academic performance. Carefully choosing how seating is arranged can result in students staying more focused on a given task, having more positive academic interactions (like putting their hand up and participating in group discussions), and developing more positive relationships with their peers as they work together.
Posture 
If people are given the right seating that allows them to sit comfortably, they are less likely to be distracted and will be able to focus and actively listen and participate. Uncomfortable seating leading to physical discomfort will take the viewer's focus away from the podium, causing restlessness and an inability to engage properly. Promoting good posture with high-quality auditorium seating will also boost brain health because it allows for normal circulation, meaning that blood flow isn't impeded and the seated individual will be able to think more clearly, avoid headaches and enjoy the experience.
Versatility
Of course, in a corporate environment, many auditorium spaces are multi-use and require seating with a certain amount of versatility. Seating that isn't built-in provides good auxiliary support when the auditorium space needs to be adapted to accommodate different needs. In this case, stacking chairs are ideal as they can be stored away to maximise space and only utilised if needed.  
Auditorium Seating Solutions
Making a wise choice when choosing auditorium-style seating will help you create a space that is not only comfortable but also creates an environment that encourages learning, sharing, and mental engagement. Fortunately, the era of uncomfortable auditorium seating is behind us and NPS Commercial Furniture has a range of seating solutions appropriate for every venue.
Fixed upholstered styles of tiered seating solutions have cushioned seated supports for maximum comfort. The Sedia Systems Jump Seating range features award-winning design and provides a slim line and compact solution ideal for education, entertainment, and corporate environments. Built with plywood and steel, this range is designed for space utilisation. Weight tested up to 270kg and formed around a cantilever frame, the flex-spring seating can be collapsed into a single standing unit of less than 10cm thickness.
Stacking seating solutions for an auditorium area are key for creating versatility. The Postura Max is an Australian made stacking chair purpose-built for education spaces that is ergonomic, durable, and lightweight. Favoured by designers and architects, the Howe 40/4 is a beautifully crafted chair offering unmatched stacking capabilities and space-saving attributes that don't compromise on beautiful lines. Finally, the Pedrali Malmo range are chairs with minimalist design radiating elegance and warmth. With clean lines and a timber finish, these chairs are stackable and create a harmonious balance of elegance and stability.            
The Importance of Quality Auditorium Seating Solutions 
At NPS Commercial, we value our long-standing partnerships with leading Australian and International brands that allow us to deliver both functional and aesthetically pleasing solutions. The type of seating you choose will play a crucial role in the overall effectiveness of your auditorium - whether you are using it as a lecture theatre, a religious meeting place, a performance theatre, or a school hall. If you take the time to consider the importance of quality tiered seating solutions and additional stackable seating, you will successfully create a space offering comfort and versatility.
We're a full-service supplier, meaning that we can quote, purchase, and install your office furniture solutions for you. Contact our team today on 1300 889 194 or at hello@npscommercialfurniture.com.au to learn more!