Case Study: St Patrick's College, 2020
by Wade Larkin on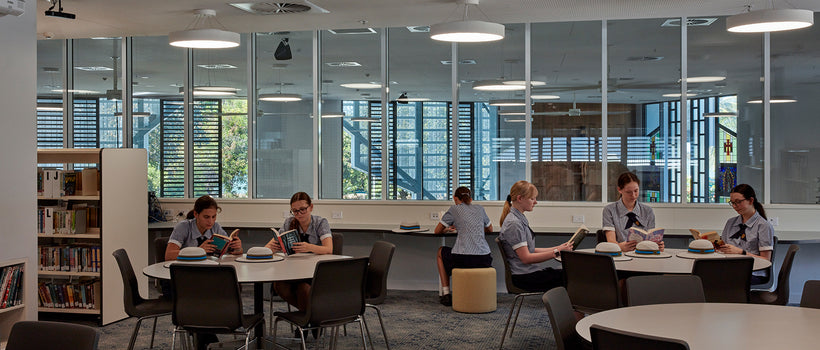 St Patrick's College, Townsville concluded its revolutionary, state-of-the-art facility development in May, 2020. The project included the development of an 800-seat auditorium, art library and nine classrooms to support the school's dance, drama, and music programs.
M3 Architecture's vision of a forward-thinking learning environment that blended tradition and bygone sentiment with modern architectural flair has come to fruition, enabling the continuation of a long-standing history in developing regional Queensland's future leaders.
As leading providers of contemporary furniture, NPS Commercial Furniture is proud to have played a substantial role in the realisation of this innovative development within our beloved region, supplying furniture for multi-function spaces, library, and classroom environments within the precinct. In cohesion with our partners, NPS has contributed to a ground-breaking space, succeeding in its' intention to create a versatile and exceptional place that will develop a modern, healthy, and engaging learning environment.
A Sturdy Base
Students spend most of their week in their schooling environment; ensuring that the furniture they interact with on a day-to-day basis is comfortable is an extremely valuable consideration for any educational space fit-out. Not only do comfortable surroundings support student wellbeing, but it also enhances the learning experience. Given the high-traffic nature of these spaces, combined with the vibrant nature of youth, it is necessary to provide durable and sturdy education furniture. Nowhere else does furniture get put through its' paces than when its' tried and tested in learning environments. Clever design and quality manufacturing are the utmost consideration especially in the extreme weather conditions of North Queensland.
Functionality and Style
In this project, a focus on clean, contemporary design combined with functionality was applied in order to generate a distinct interior aesthetic that would incite feelings of organisation and comfortability, without sacrificing personality. That being said, it made sense for the i AM Turn Table to be a staple feature of the precinct. With a minimalistic yet sleek design, these turn tables create a flexible table base system whilst allowing for ease of movement and considerable storage. Additionally, the Eames Meeting Tables incite collaboration through shape and perfectly represent the overarching vision of M3 Architecture – an aesthetic, modern style with a touch of personality conveyed through the aged wood finish. Finally, the RBM Ana chair epitomises Scandinavian style, complimenting the warm wooden tones of the chosen table by offering sophistication and style. The vibrant colours will bring any room to life without disregarding its primary purpose – creating a comfortable and functionally sound seating arrangement.
The Importance of Aesthetic and Synergy
Despite the focus on durability and practicality, style remains crucial in an educational fit-out. Colours, textures, and form utilised in a building design and furniture defines a mission and purpose, subconsciously setting the tone for all those who enter. We considered how we would want the students to feel when they walked in for the first time, what parents would think, and whether teachers would find it practical. How do we want people to interact in the space? All of these questions would inform the direction of colours, material and shape for the furniture that would be selected.
Further considerations centered around incorporating the rich history and culture of the school into our design thinking. Was there an emphasis on progression or an appreciation for tradition? St Patrick's is a prominent school with a deep and proud history that celebrates its customs. As such, the colour scheme and layout were to hold similarities with the surroundings. The centre is also going to be used after school hours, on weekends and evenings. With this in mind, the fit-out was designed to minimise high-traffic areas and enhance the space. This would make daily activities easier, improve productivity and make it easier to clean. Would people spend time here if they weren't scheduled to? The answer needed to be yes – and this is how we did it.
A Commitment to Our Partners and a Focus on Reliability
NPS Commercial Furniture supplied numerous products from our portfolio to meet the required size constraints. This included providing samples to both the client and architect in South East Queensland, even with an extended period of unrelenting disruption and uncertainty arising from the effect of COVID-19. Despite the added restraints placed upon our movements and our deadlines, NPS Commercial Furniture delivered all furniture to coincide with the opening of the building. This achievement is representative of our experience and our determination to offer full-service (quote, purchase, and installation), high-quality commercial furniture as promised. In order to realise a vision, logistics and organisation must be a prominent consideration.
Our Guarantee
NPS Commercial Furniture partners with leading Australian and international furniture brands so as to ensure quality manufacturing, honest service and unrivalled longevity across our vast product range. Our overarching mission is to ease the fit-out specification process for commercial building and construction project managers in North Queensland by offering a wide-range of high-quality furniture products in a host of colours, materials, and certifications to suit all preferences.