Creating a Healthy Call Centre Environment through Furniture
by Wade Larkin on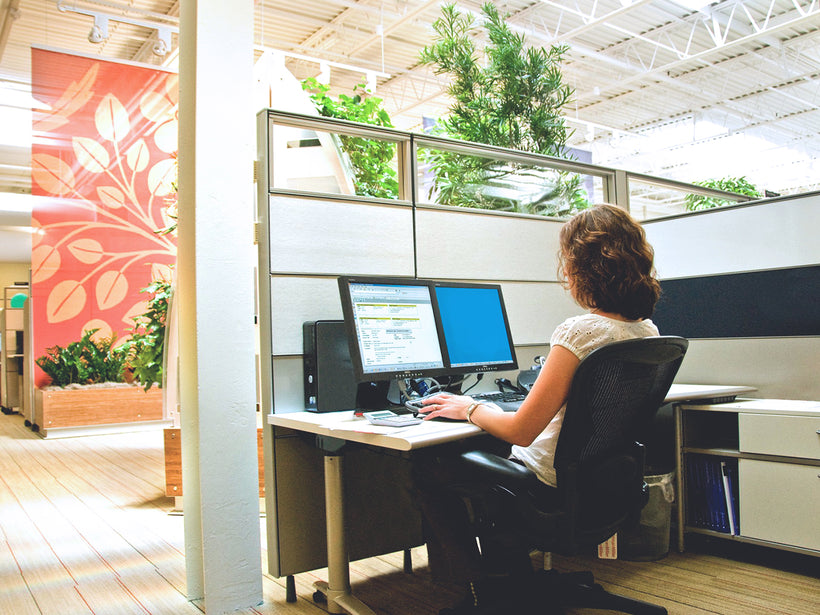 Solutions for a Healthy Call Centre Environment
Working in a call centre can be highly stressful, leading many call centre agents down the path of customer service burnout. Customer service roles require a lot of emotional labour, and for many, it can be challenging to keep up with the results-driven nature of call centres. After all, call-centre workers are human too.
Despite this, it is possible to create a healthy call centre environment that decreases the influence of call centre job stress and negates the potential health effects of working in a call centre. 
When it comes to solutions for a healthy call centre environment, NPS Commercial Furniture offer an extensive range of space and cost-saving, acoustic and ergonomic furniture solutions that promote wellbeing in an often stressful role, thus improving levels of employee retention within call centres. Located in North Queensland, we've cultivated the enviable reputation over our 50 years of existence of delivering premium grade, stylish and sustainable furniture solutions alongside unmatched customer service.
Continue reading to learn more about negating call centre health problems through our furniture solutions that make creating a healthy call centre environment easy.
Health Effects of Working in a Call Centre
Unfortunately, call centre work can often negatively affect one's health due to the intensity of work, long periods of seated time, and angry customers with complaints to air over the phone.
Given the nature of call centre work and the necessity for a certain type of individual capable of meeting its demands, increased, more frequent levels of stress and burnout are common.
In saying this, thankfully, there are a number of ways a company can reduce the effect and levels of customer service burnout within their working environment.
In particular, focusing on the physical design and layout of a call centre can drastically improve team members' perceptions of it as a working environment and thus reduce the frequency of call centre health problems.
Developing a Healthy Call Centre Environment
Everybody loves working in a spacious, comfortable, and healthy working environment. Call centres are no different. In fact, call centres are likely to benefit more from a well-designed space than other industries, given the nature of the role.
A call centre has evolved into a key asset in the customer relationship, often presenting the only opportunity organisations or clients have to build a relationship with customers they'll never see. As call centres have learned, however, this first impression is likely to be unfavourable if agents are drudging around in an unstructured environment with little personality, detracting from the professionalism they're expected to exhibit.
Here are a few helpful elements to consider incorporating into the design of your call centre space: 
Seating and Desks
Providing your personnel with comfortable seating and ample desk space keeps their stress to a minimum and increases focus on the task at hand.
Seating such as Herman Miller's Cosm is timeless example of a highly ergonomic office chair that makes sitting down for long periods of time comfortable. Innovative in its design, this chair allows body-specific adjustments that provide individualised comfort and movement for each user.
Like all office workers in the modern world, call center staff are at the mercy of sedentary habits such as sitting for extended periods. This unassuming lifestyle by-product can have profoundly negative health impacts on employees who are working seated at a desk all day. Including height-adjustable desks such as Ovation into a customer service work environment allows staff to sit or stand as they need during the day making their shift more comfortable and reducing the health risks associated with prolonged periods of time seated. 
Spacious Design
Many call centres often neglect the importance of space in their design, and high density is a standard feature. However, call centre operators will benefit from well-designed space to reduce feelings of being 'locked in' and prevent the annoyance of being unable to hear their client on the other end of the phone due to noise pollution.
Consider integrating acoustic work pods such as the Martela PodWork. Available in a variety of upholstery materials, the PodWork includes fully acoustic, wrap-around walls for added privacy.
Similarly, reducing the effect of noise pollution is made easy with the Offecct Membrane, acoustic panels that not only absorb and diffuse sound but also double as a contemporary room divider. 
Lighting
The right lighting system makes a genuine difference in employee happiness and boosts everyone's perception of the office environment. Consider incorporating the use of natural light where possible to boost mood. 
Where natural lighting is not an option, consider implementing PLN Group's 'Hush Round', an award-winning design that integrates lighting acoustics to improve concentration and boost visual appeal and happiness. 
Creating a Healthy Call Centre Environment with NPS Commercial Furniture
So, there you go – it is clear that a healthy working environment will result in decreased levels of stress and burnout whilst improving productivity and levels of employee retention.
Servicing all of North Queensland, NPS Commercial Furniture has exclusive access to leading Australian and International brands, offering a wide range of high-quality accessories that provide acoustic, spacious solutions.
Our focus on quality-built, sustainable products that showcase the absolute best design makes it easy to find the perfect pieces for your puzzle. What's more is, we offer a full-service, meaning we can quote, purchase, and install our office furniture solutions.
Contact our team today on 1300 889 194 or through hello@npscommercialfurniture.com.au to learn more!