Mastering the Art of Luxury Hotel Interior Designs
by Wade Larkin on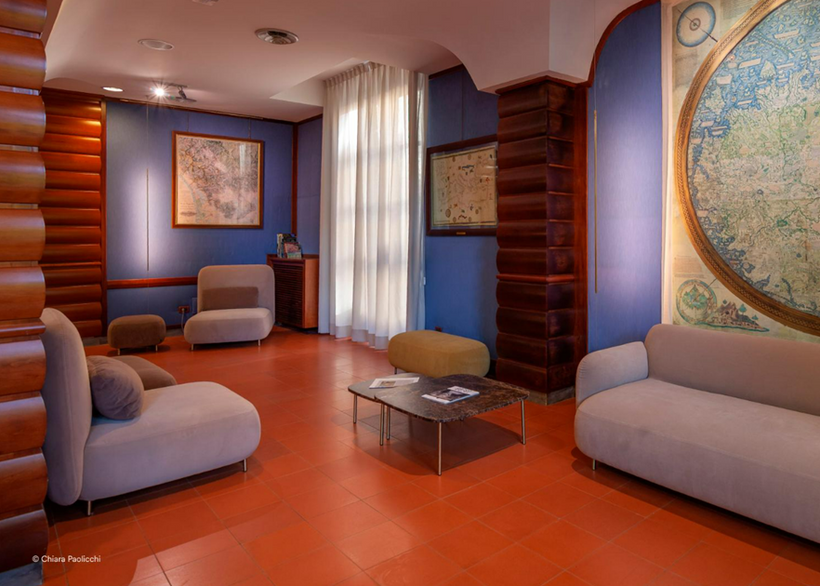 What creates the ideal hotel design? Luxury hotels frequently face this puzzle—a quest to find harmony between desired atmosphere, brand essence, and practicality. At its heart, this challenge involves crafting a flawless blend of aesthetics and usability. 
Unsurprisingly, achieving this harmony can be remarkably challenging when catering to a diverse array of patrons, ranging from families to couples, and business travellers to everyone in between. 
Dive into the artistry behind crafting unforgettable environments that imprint lasting memories on guests, redefining the very essence of hospitality. Among the tools at our disposal, thoughtfully curated designer furniture tailored for hospitality stands as a key player in this endeavour. Join us on a global expedition through luxury hotels, as we reveal the hidden treasures behind their captivating designs. 
Eleme
nts of Luxury Interior Design
Colour Scheme
Carefully selecting colours that complement the desired style is crucial, considering furniture, art and decorations. Bold hues create energy, metallic shades offer timeless elegance, neutrals provide openness and warm earthy tones evoke serenity. 
Rich Materials and Textures
Utilising fine materials like Italian marble, fine woods and luxury textiles elevates the ambiance. Incorporate these in furniture, countertops and tiles to achieve a glamorous look. 
Comfortable and Cohesive Atmosphere
Luxury design is not just about aesthetics but also about creating a unified and comfortable environment. Soft furniture arrangements and high-quality finishes contribute to a cosy atmosphere, while maintaining continuity between rooms enhances wellbeing. 
Attention to Detail
True luxury lies in the details, whether through custom furniture or lavish decor accents. These elements add a sense of grandeur and uniqueness to the space. 
Luxury Lighting
Lighting plays a crucial role in interior design. Modern light fixtures, such as chandeliers or layered ceiling lighting, not only provide illumination but also serve as opulent decor elements.  
Unique Design
Luxury design allows for individual expression and preferences. Whether it is a striking wallpaper, grand colour schemes, minimalistic aesthetics or stunning water features, creating a unique atmosphere is at the core of luxury interior design. 
Hotel Interior Design Tips 
Find your interior design focus.

 

Use psychology to choose colours for your hotel's interior design.

 

Match form with function.

 

Get inspired by your location.

 

Design guest rooms with the future in mind.

 

Find areas to highlight local art.

 

Blend in with your surroundings.

 

Pay attention to your lighting.

 

Don't forget the transitions, like the hallways to rooms.

 

Get help from hotel interior designers.

 

Target eco-conscious customers with low-impact architecture, climate commitments and supply chain impact, as well as more greenery.

 

Design hotels for digital nomads, such as with ample wardrobe space and coworking spaces with reliable internet.

 

Incorporate technology, like with tablets for temperature and lighting control.

 
NPS Commercial Furniture's Luxury Hotel Furniture Options
Did you know that some of the pieces from the NPS Commercial furniture range are featured in renowned hotel chains like the Hilton, Hillton Doubletree and Relais Chateau?   
It can be challenging to discover the right hotel furniture that not only meets high standards but also elevates your hospitality space to create a memorable guest experience. 
At NPS Commercial Furniture we take pride in offering a wide array of hotel furniture options designed to elevate any hospitality space. Our collection includes a selection of commercial indoor and outdoor chairs, tables, lounges, and more, all crafted with quality materials and meticulous attention to detail. We proudly present collections from renowned brands like Pedrali and Derlot Editions, showcasing beautiful and innovative furniture pieces that perfectly blend form and function. 
Explore Our Popular Luxury Hotel Furniture Solutions:
The Buddy Sofa effortlessly marries comfort and aesthetics, presenting a rounded and modern seating solution that guarantees relaxation. Its design boasts a perfect blend of four different densities of polyurethane foam, supported by elastic belts, ensuring an unparalleled level of comfort. Embracing boundless possibilities, the Buddy 219 seamlessly fits into various hotel environments and is the perfect addition to a hotel project. 
Drawing inspiration from Mario Pedrali's iconic metal garden chairs dating back to 1963, the Nolita 3655 presents a contemporary rendition of timeless outdoor seating. Infused with modern aesthetics, this armchair with a low backrest is specially crafted to withstand the elements, making it an ideal choice for outdoor use in hospitality settings of boutique hotels or luxury hotels. 
The Nest Oak Tables bring timeless charm and character to hotel spaces of all sizes and configurations. Available in various sizes and heights, these tables are versatile additions that exude warmth and elegance. Whether used as side tables or coffee tables, they seamlessly blend into any hotel environment, making a lasting impression on guests. 
Iconic Luxury Hotel Interior Designs
With the fundamentals of hotel interior design under your belt, it's time to embark on a journey exploring exquisite luxury hotels across the globe. 
Grand Luxe King Guest Room, Credit: St Regis New York, Marriott 
St Regis Hotels
Combining old-world glamour and modern conveniences is what St Regis hotels are all about. With over 60 locations, each has a different design. The New York location, for example, contains Louis XVI and XV-style furniture, with grey marble bathrooms and European bathtubs. Upon entering the hotel, guests are greeted by a grand foyer adorned with exquisite marble floors and soaring ceilings. The common areas are tastefully decorated with plush furnishings, intricate chandeliers and beautiful artwork — the Morocco location has its artwork curated by leading designer, Artelier Art Consultancy — creating a sophisticated and inviting atmosphere.  
Deluxe Marina Suite at Burj Al Arab, Credit: Jumeriah 
Burj Al Arab, Dubai, UAE
The Burj Al Arab stands as a symbol of architectural magnificence and opulence. Its interior design is a harmonious fusion of modern luxury and Arabic influences. From the blue and gold accents to the rich textures of wood, velvet, marble and more, every aspect of this sail-shaped hotel exudes extravagance and grandeur. Each suite has floor to ceiling windows with panoramic views and are incredibly spacious, with plenty of mirror to make them seem even bigger.  
 Grand Deluxe Room, Credit: Ritz Paris 
Ritz Paris, France
There is no denying that the Ritz is a truly luxurious hotel, not only in France but also in the world. It embodies the epitome of opulence, paying magnificent homage to the French art de vivre. Luxurious fabrics, such as silk and brocade, drape the furniture and adorn the walls, creating an atmosphere of lavishness. The ornate details, such as chandeliers, antique furniture, and hand-carved woodwork, add a touch of sophistication that further enhances the allure of the space. The Ritz enchants with its elegant and classical decor, offering luxurious amenities that transport guests to a different era, where time seems to stand still. 
 The Hoxton Downtown Los Angeles Lobby and Seats, Credit: The Hoxton 
The Hoxton Hotels
Renowned for its trendy appeal, and comfortable hotel seating The Hoxton stands as one of the most fashionable hotel groups today. With prime locations in London, Amsterdam, Los Angeles and Paris, they effortlessly capture the essence of cool. Each reflects the neighbourhood and beautifully designed for both comfort and opulence. The Hoxton is celebrated for its timeless yet effortless style, skilfully blending industrial aesthetics, trendy colour palettes and mid-century inspired furnishings. This harmonious fusion strikes a perfect balance between modernity and undeniable charm. 
Aman Tokyo Lounge, Credit: Aman Tokyo  
Aman Tokyo, Japan
If you're one for an oriental feel, check out the Aman in Tokyo. In the heart of bustling Tokyo, the Aman provides a serene and minimalist retreat. Designed by Australian design firm, Kerry Hill Architects this hotel interior features an open hotel lounge drawing from Japanese design traditions, with elements such as ikebana displays and washi paper doors.  
The expansive lobby, reminiscent of a traditional ryokan and the generously sized rooms exude a sense of spaciousness rarely found in this bustling city. The Aman embraces the principles of Zen aesthetics, with natural materials, clean lines and a calm ambiance. The fusion of modern elegance and traditional Japanese influences offers a haven of tranquillity amid the vibrant city. 
If you need help with your hospitality design or are looking for an impressive range of furniture for one of your next hospitality projects, enquire online or call us today on1300 889 194 and we can help with any questions or queries you have.