The Importance of Good Lighting in the Workplace
by Wade Larkin on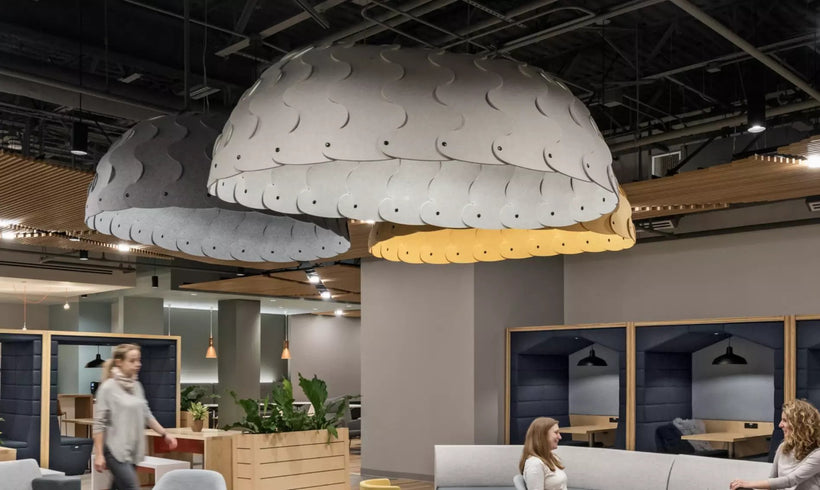 Often overlooked, the importance of good lighting in the workplace cannot be understated. Not only does the right lighting reduce the risk of health issues among your employee base, but it also plays an important role in improving the efficiency, productivity, and mood of your staff. 
According to research conducted by Staples, 80% of office workers said that having good lighting in the workplace is important to them, with 32% citing that better lighting would make them happier at work. With this being said, it begs the question, just how do you improve lighting for office spaces?
Located in North Queensland, NPS Commercial Furniture has the necessary knowledge, skills and products generated from over 50 years' experience in the industry to improve lighting in the workplace and exceed lighting requirements for office spaces. Over time, we've developed a reputation for delivering the highest-quality furniture in the region alongside unmatched customer service, due to our long-standing partnerships with leading Australian and International brands.
Keep reading to understand more about the importance of good lighting in the workplace and how you can create a functional and aesthetically pleasing environment with lighting.
Lighting Requirements for Office Space: Importance of Artificial Lighting
The vast majority of office workers spend their days indoors and in front of the computer, meaning they're not as exposed to the necessary level of natural sunlight needed to keep the mind and body in healthy condition.
According to Occupational Health Services Australia, the best office lighting for computer work ranges between 320-400 lux. If you're lucky enough to have a natural source of light in your office, the requirements for artificial lighting will be much less.
With results from the Staples survey above showing that 25% of respondents were frustrated with having to deal with poor lighting in their workplaces, it is clear that the right artificial lighting is crucial to overall performance and subsequently, a business's ability to generate revenue. Given that 13-15 minutes of exposure to natural light are enough to trigger the release of endorphins or 'happy hormones', as Dr. Joe Taravella, a supervisor of paediatric psychology at NYU Lagone Medical Centre cites, it is clear that even a small investment in small office lighting is enough to make a substantial difference. 
Multipurpose Lighting for Office Spaces
Even if you have a small office, lighting is crucial. Effective lighting can increase cognitive function, improve reaction time, and even decrease depression.
Ideally, each worker would be able to adjust their own lighting as everyone is different and performs varying tasks day-to-day. However, this isn't the most practical of solutions and could become costly.
The implementation of effective lighting systems in an office space not only reaps the aforementioned benefits, but they can also add plenty of character and personality to your workplace and in most cases, are fully customizable. The importance of good lighting in the workplace has never been more obvious. 
Our range of Hush lighting will undoubtedly increase the functionality of your space, combining the benefits of light and acoustic paneling in one. Hush lights are award-winning fittings built of lightweight, semi-rigid acoustic paneling that softens the impact of noise in larger spaces by absorbing excess sound and reverberation. Increasing acoustic coverage in an office will create a more peaceful space free of distractions from jarring noises whilst boosting productivity and happiness.
If you're looking for something with contemporary flair, the Giravolta range of lighting from Pedrali combines portability, sleek Italian design, and industrial functionality in three different sizes for unrivalled customization. Pedrali's offering is a standout piece of wire-free, completely portable lighting that offers 360-degree rotation and an LED light source that is rechargeable. It doesn't get much better than this…
The Importance of Good Lighting in the Workplace 
All in all, lighting in office spaces is essential for the health and happiness of all inside. It's often dismissed as trivial, but the psychological and physical benefits of adequate lighting shouldn't be overlooked. What's more is, the installation and implementation of lighting systems provides an excellent opportunity to decorate and combine functionality with design. After all, why not make the neighbouring offices jealous of your style? 
With exclusive access to leading Australian and International brands, NPS Commercial Furniture offers the highest-quality range of lighting systems, furniture, and accessories in North Queensland. As we're a full-service supplier, we can quote, purchase, and install your office furniture solutions for you – meaning you can keep doing what you do best while we take care of the fit out.
Contact our team today on 1300 889 194 or at hello@npscommercialfurniture.com.au to learn more!