What Are the Benefits of a Standing Desk?
by Wade Larkin on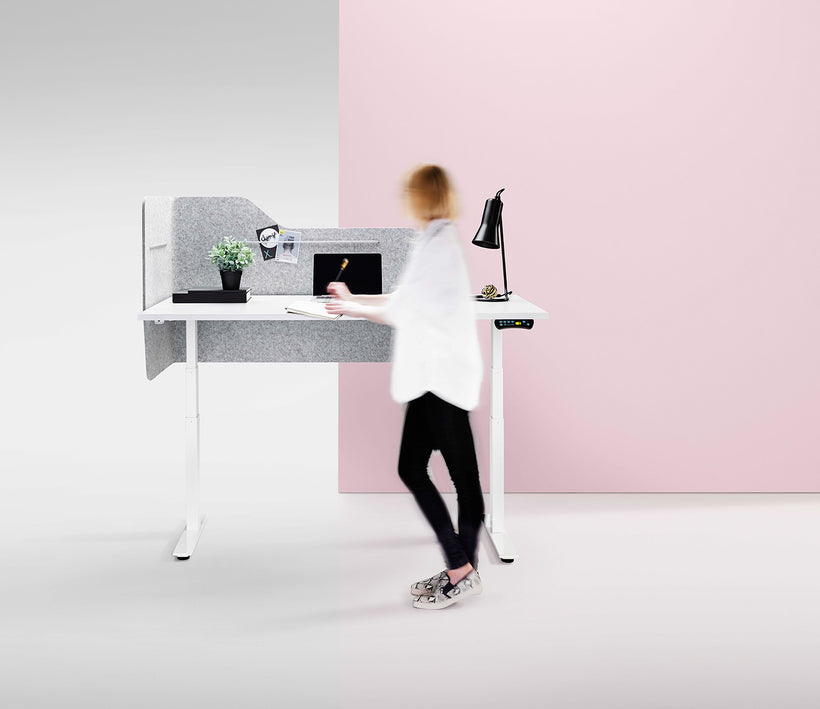 Standing desks have become increasingly popular as the general public learn more about the dangers of sedentary behaviour. We know that sitting at your desk all day is not good for your health and that the study of ergonomics delves into the ways in which we can optimise our working environment. As the modern workplace continues to advance, height-adjustable desks have become a staple in commercial fit outs. So, what are the benefits of a standing desk? 
If you are looking into purchasing a height-adjustable desk, you may have wondered what the proven health benefits of standing at work actually include. You're not alone. As more Australians move into working positions behind desktops, we're becoming increasingly interested in the science behind modern occupational behaviours.
From surprising health benefits to the advantage of increased productivity, there are a host of evidence-based reasons to introduce height-adjustable workstations into your office. What's more, a growing demand for standing desks means that employers and office workers now have access to a wide range of height adjustable desks, which cater to various working behaviours and interior designs. Restrictions to style and functionality are no longer limiting factors when choosing the right standing desk for your workplace. NPS Commercial Furniture offer an exclusive collection of height adjustable desks and workstations that cater to a variety of corporate environments.
What Is the Purpose of a Standing Desk?
Standing desks or height-adjustable desks primary purpose is to mitigate the poor health risks associated with sitting at a desk all day. According to SafeWork Australia, sitting for longer than 30 minutes without a mini-break can be detrimental to your health.
Being seated at your desk for hours on end is one of the largest contributors to long-term health risks such as diabetes, heart disease, depression and obesity. Despite this fact the Australian Bureau of Statistics reports that 44% of adults have admitted to spending most of their days at work seated.
Benefits of a Standing Desk
BeUpstanding, a University of Queensland research-based initiative, works with SafeWork Australia to identify evidence around the health benefits of standing at work.  Some of the main benefits of standing more frequently at work, as highlighted in the BeUpstanding body of research, include:
Lowered risk of obesity
Reduced back pain and strain
Lowered blood sugar levels
Reduced the risk of heart disease
Improved mood and cognitive function
Boosted productivity
Shop Height Adjustable Desks Today
Implementing height adjustable desks into your office means your employees can enjoy the various health benefits of sit-to-stand ergonomics, ensuring your workplace is comfortable and optimised for maximum productivity. NPS Commercial Furniture offer an ever-evolving collection of electronic workstations, height-adjustable desks and ergonomic workspaces.
Our focus on quality-built products, combined with our exceptional design standard, means that our exclusive range of height-adjustable workstations is among the most versatile and reliable in Australia. Our range of desks can be used in a variety of working environments and delivered throughout North Queensland including Townsville, Cairns, Mackay, Rockhampton and Mount Isa. 
If you would like to learn more about our ergonomic furniture or talk to one of our experts about our standing desk range, you can contact our friendly team today on
1300 889 194
.