Creating Accessible and Inclusive Workplace Environments
by Wade Larkin on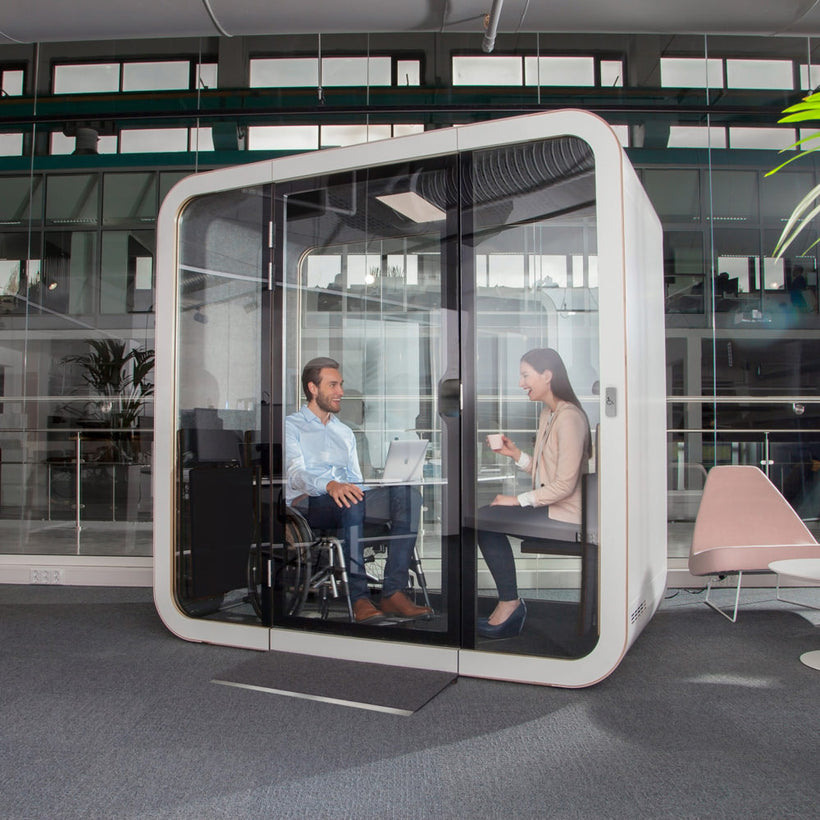 Everyone has the right to work, and to work in accessible and inclusive workplace environments that allow each employee to feel dignified and valued. Technology can help with the physical accessibility of a workplace, making it a welcoming and open place for all.
As well as the physical workplace, employers also need to consider the accessibility not only in terms of technology, but also the attitudes and values of their employers and their approach to reasonable adjustments. At NPS Commercial Furniture, we understand the importance of ensuring each workplace is both safe and inclusive for everyone. Within this article, we're going to break down a number of suggestions on how to make your business more inclusive and accessible for all.
How To Make Your Business More Accessible 
The concept of universal design was developed in 1997 by a group of architects, product designers, engineers and environmental design researchers at the Centre for Universal Design at the North Carolina State University. The aim was to create a range of principles that "provides a blueprint for maximum inclusion of all people." The idea being that if an environment is accessible, usable, convenient, and a pleasure to use, everyone will benefit.
This working group came up with seven principles that act as a "blueprint" or guide for employers seeking to create genuinely accessible and inclusive workplace environments. These principles are as follows:
Equitable use: the design is useful and marketable to people with diverse abilities.
Flexibility in use: the design accommodates a wide range of individual preferences and abilities.
Simple and intuitive use: use of the design is easy to understand, regardless of the user's experience, knowledge, language skills, or current concentration level.
Perceptible information: the design communicates necessary information effectively to the user, regardless of ambient conditions or the user's sensory abilities.
Tolerance for error: the design minimises hazards and the adverse consequences of accidental or unintended actions.
Low physical effort: the design can be used efficiently and comfortably and with a minimum of fatigue. 
Size and space for approach and use: appropriate size and space is provided for approach, reach, manipulation, and use regardless of user's body size, posture, or mobility.
How to Make Your Workplace More Inclusive
Physical and cultural inclusiveness in the workplace is really important; our experience shows that creating open and inclusive workplace environments will benefit employers and employees alike. The NPS Commercial Furniture range of ergonomic and inclusive commercial furniture is highly curated and can help you create such an environment for your workforce.
Seating
Ergonomic chairs that allow the user to sit comfortably without strain or fatigue are imperative in any workplace. Back complaints are some of the most common in the workplace and seating solutions are directly related to improving spinal health.
Our Embody ergonomic task chair was specifically designed alongside specialists in biomechanics and physical therapy, to create a task chair that benefits the physical wellbeing of its user. It adjusts automatically to your movements and distributes your weight evenly to reduce pressure and support healthy circulation. In the same lineup from Herman Miller, the Cosm range of chairs are compact and flexible with a range of back heights to accommodate people of all statures. Built with the Auto-Harmonic Tilt, this chair mimics your movements and posture to provide natural balance. 
Also available is the Australian engineered Orthopod Classic with personalised comfort settings, this is a heavyweight chair that can accommodate a user of up to 135kgs. Jump seating allows for flexible seating arrangements in auditoriums for wheelchair access that can also be used when not occupied by a wheelchair user.
Desks
Sit to stand solutions are growing in popularity as people come to terms with how harmful sedentary behaviour can be for overall health outcomes. Workers returning from injuries might also need flexibility to alternate between sitting and standing positions throughout the day. The Ovation Sit to Stand Desk is a fully customisable solution that can be tailored to suit any working height needed and also for wheelchair access and people of various heights. The Ovation Desk is available in a variety of options, catering to a wide range of uses and needs. With a built-in cable pathway and an oval leg design, this all-rounder allows for a strong base to accommodate varying weights and pressures.
Meeting Rooms
Creating accessible and inclusive workplace environments goes hand in hand with creating spaces for people who have diverse needs. Flexible workspace areas are essential to accommodate workers who might need a dedicated prayer space or a quiet space for those with noise sensitivity who experience sensory overload. The Framery range of acoustically sound meeting pods are completely flexible and come in a range of sizes and set-ups with wheelchair accessible options, automatic doors, foldable chairs and desks for ultimate flexibility.
Ensure Your Workplace is Inclusive with NPS Commercial Furniture
In conclusion, it's clear that when designing the physical environment, employers should take into account universal design and the seven principles that will help create a functional, flexible, safe and inclusive work environment. A great place to start is with office furniture that will allow people of diverse abilities and circumstances to happily work alongside each other as equals.