How to Arrange Office Furniture at Work
by Wade Larkin on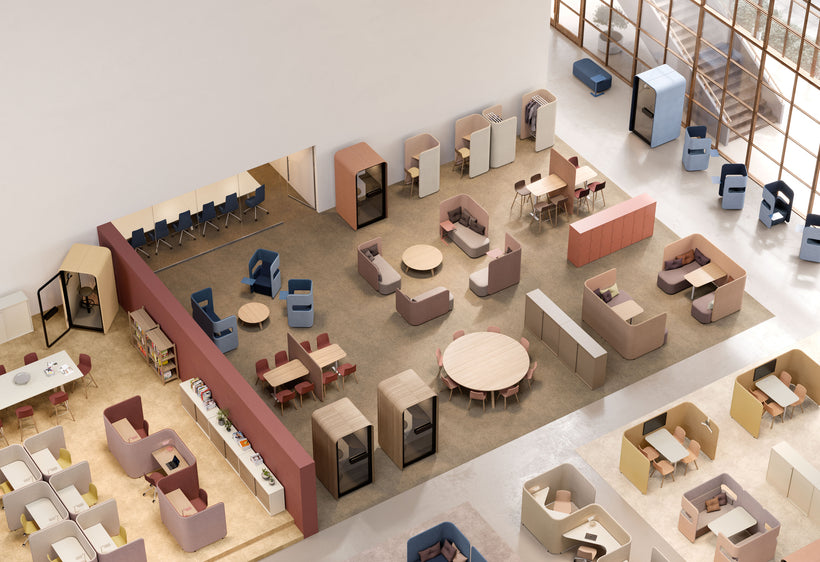 As working environments have seen noticeable shifts towards hybrid and remote working arrangements, office layout and design will see a considerable change to accommodate the professional settings of 2021.
Small design considerations and thoughtful office furniture planning can go a long way to improving a small home office or re-invigorating corporate offices as employees return to the space from a season of remote working.
Let's look at a few simple design and layout tips that work to improve the aesthetics and functionality of your office.
Movement Within the Space
Understanding how to arrange office furniture at work, begins with considering how you want your employees to move within the space. Identify high traffic areas such as entrances, exits, bathrooms and kitchens and ensure paths to and from these areas are established. This is also a key feature of learning how to arrange office furniture at work, for the most functionality. Arranging office furniture so that paths from the entrance through and around your high traffic areas are clearly defined should allow for individuals to easily navigate the room and find what they are looking for throughout the day.
Play to The Room's Strengths
Each office and room will have its own particular features, allowing for unique office furniture planning ideas. Not all working spaces are exactly perfect, but that doesn't mean you can't take stock of the benefits your space does offer and play to those strengths. Do you have ample natural lighting, high ceilings, quiet nooks or an abundance of space? Work to enhance these advantageous traits. Thoughtful deliberation about the best attributes of your space will aid in organising the right selection of office furniture and accessories which will work towards making those aspects shine.
From here you will be able to further develop your office furniture arrangement ideas.
Office Furniture Layout and Design: Desks, Chairs and Tables
Because desks, chairs and tables will take up the majority of space and costs of an office set up, these are the items that should be planned out first. 
Desk placement can determine how employees interact, which means careful planning is required when arranging workstations to ensure optimal functionality for staff. Do you have small groups working with one another collaboratively? Consider small clusters of desks for this type of team, which will allow them to interact seamlessly throughout the day as required. Alternatively, do your staff need more private spaces for focussed tasks without distraction? Workstations with acoustic dividers such as workpods might be more suited for this kind of work.
Lighting and space are other points to take into consideration for your office furniture selection and arrangement. Does your office lack natural light and space? Using minimalist desks with no walls or backs in conjunction with low profile chairs can make a small area with little light feel bigger and brighter. On the other hand, if you have a work environment that affords a lot of space make it feel cosy and inviting with varying shapes and designs to break up potentially uniform and lacklustre aesthetics. Soft furnished sofas, tables and other breakout furniture also help to create a welcoming and functional space as well as offering alternative zones in the office for staff and clients to meet.
Office Furniture Layout and Design: Establishing Key Areas
A Welcoming Reception: Your reception area acts as the boundary between visitors and the space within. Ensure this space is arranged to feel open and welcoming. Utilising soft furnishings and ensuring good lighting is a great start. Arranging small tea and coffee amenities are also a great way to welcome visitors. 
Define Commanding Positions: Those in the commanding position generally have the best view of the office space and can see what is going on. In the office, prioritise this space to the CEO or boss. If at home, position your desk so you have a view of the entrance. If you cannot move the desk to see the entrance, position a mirror to help you.
Office Furniture Layout and Design: Accessories and Décor 
An important aspect of understanding how to arrange office furniture at work is accessorising the space, to suit the office branding, décor and company culture.
While negative space, as can be found in minimalist décor styles, are important to ensure a spacious and comfortable environment, items such as wall art, lamps or plants are great ways to add sophistication or personalisation within workspaces. Personalisation is a great way to add an edge to otherwise boring furniture or help communicate a distinctive brand identity when clients walk in.
Living plants in your work environment are an understated way to instantly shift not only the look of a room but more importantly, the feel. They help to break up potentially monotonous corporate colour scheme as well as work to clean the air and keep the space light, fresh and airy.
Create the Perfect Office Set-Up with NPS Commercial Furniture
Now that you have a better understanding of how to arrange office furniture at work, you can browse our exclusive collection to find your ideal office and commercial furniture. Offering a wide range of ergonomic desks and workstations, workspace furniture elements and seating, NPS Commercial Furniture are industry-leaders in comfortable, functional and stylish furnishings. 
NPS Commercial Furniture is a Townsville-based commercial furniture company serving multiple industries. We offer a collection of desks, chairs, tables and other office furniture to foster collaboration and productivity in the workplace. Sourced from leading Australian and international brands, our pieces offer quality and comfort, allowing your employees to maximise their performance.