Creating a Sustainable Workplace
by Wade Larkin on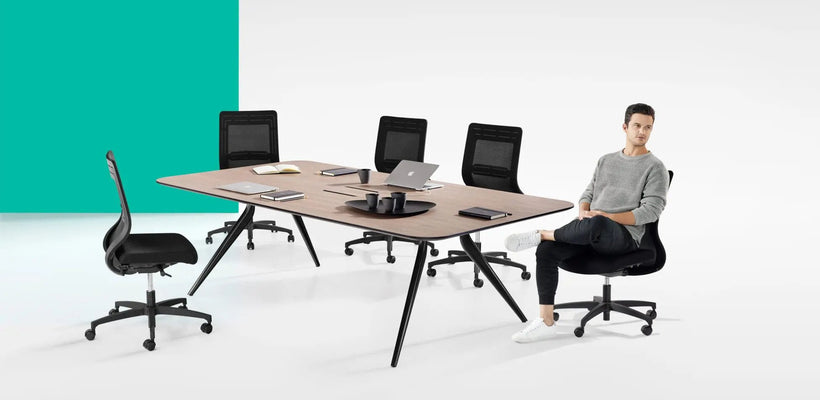 As the influence of climate change becomes more apparent year on year, it's no surprise that many businesses are adopting sustainable workplace practices in order to reduce their carbon footprint. This is perhaps even more pertinent when considering more and more consumers are assessing companies based not only on their products or services, but also on their impact on the community and the environment. 
So, just what is a sustainable workplace? 
A sustainable workplace establishes goals to balance the planet, people, and profit, producing success and viability in the long term. 
NPS Commercial Furniture, located in North Queensland, is eager to help businesses around the state create a sustainable, green workplace. With over 50 years' experience in the industry, we've cultivated the enviable reputation of delivering premium grade, stylish and sustainable items alongside unmatched customer service.
Within this article, we'll touch on sustainable workplace solutions you can apply to your office space and take you through a number of green workplace ideas so that you can begin your journey to a more cost-efficient, productive environment.
Benefits of Sustainability in the Workplace
The development of a green workplace is not only good for the environment, but it can also reduce overheads in the form of cost, improved health and job satisfaction of your staff and enhanced brand reputation. What's more, businesses who have implemented sustainable practices and solutions within their workplace experienced a higher level of staff retention and found that their employees were more productive throughout the day. These factors are crucial to boosting the overall revenue and brand awareness of your organization.
According to a report by Bain & Company, 93% of companies surveyed cited that they believed sustainability was important to the future success of their business. Despite this, only 2% of these companies achieved their sustainability goals.
 So, just how can you implement lasting sustainability initiatives in the workplace? 
Green Workplace Ideas and Sustainability Initiatives
According to the Green Building Council of Australia, green workplaces 'incorporate design, construction and operational practices that significantly reduce or eliminate its negative impact on the environment and its' occupants.'
 A green workplace would take upon measures such as: 
Reducing the use of material resources and waste for sustainable materials and supplies
Reducing pollution of air, earth, and water if applicable through material sourcing and manufacturing
Reducing damage to natural systems and biodiversity
Utilising natural light
Being efficient with electronic use
However, it is necessary that employees engage with these sustainability issues and support their implementation for them to be successful.
To incite employee engagement with sustainability initiatives, businesses can incentivise environmentally friendly habits through gamification, prizes, or bonuses. Moreover, businesses can subconsciously promote sustainable endeavours within their workforce by placing recycling bins, notices, or informational flyers in high foot traffic areas wherein these initiatives cannot be ignored.
To start your journey toward a more sustainable workplace, it would be practical to first conduct an audit of your workplace's current sustainability progress, before identifying key sustainability goals and deadlines to provide a structural framework by which all involved can work towards.
NPS Commercial Furniture: Sustainable Workplace Solutions
When it comes to furnishing a green workplace, NPS Commercial Furniture has everything you'll ever need and more. Having transformed countless workplaces across the North Queensland region with our eye for craftsmanship and design, NPS Commercial Furniture is driven to help you implement sustainability in the workplace by utilising locally manufactured products alongside internationally recognised brands.
We have a wide range of products for businesses wanting to create a sustainable workplace environment, including the latest in ergonomic design, soundproof technology, collaborative workspaces, adjustable tables, and lighting accessories.
For a green workplace, products that utilise recycled or sustainably sourced materials and have multi-use purposes will be extremely beneficial. The long-life span and flexible nature of these products will reduce waste in the short and long term whilst appeasing the demands of modern design and space-saving solutions.
In particular, NPS Commercial Furniture recommends the Thinking Works 'EONA Meeting Table' built from post-consumer recycled materials, delivering a statement piece through design and sustainability. Moreover, we also recommend Pedrali's recycled grey range, which offers remarkable pieces of industrially designed furniture sourced from the highest quality of durable, sustainable materials to offer long-lasting furniture solutions. If you're looking for sustainable living fabrics, look no further than +Halle and their 'Low Nest Sofa' which blends traditional furniture types with modern and strategic design, focusing on the necessity of comfort within office environments.
From the moment you share your vision with NPS Commercial Furniture, our team works tirelessly to make it a reality. Our focus on quality-built, sustainable products that showcase the absolute best design makes it easy to find the perfect pieces for your puzzle. What's more is, we offer a full-service, meaning we can quote, purchase, and install our office furniture solutions.
Contact our team today on 1300 889 194 or through
hello@npscommercialfurniture.com.au
to learn more about green workplace solutions or enquire about products for your own workspace.