Furniture Solutions for Healthcare Facilities
by Wade Larkin on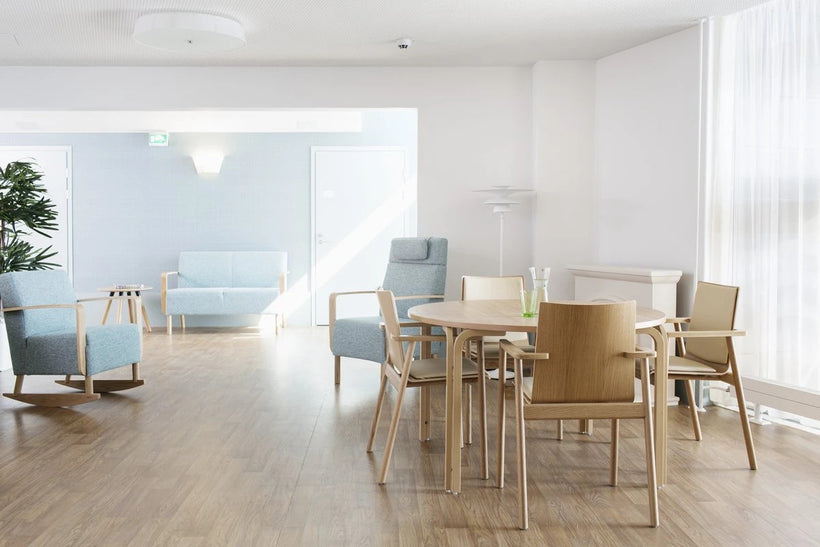 It's hard to put a number value on the worth of furniture in a range of industries; the style, practicality, and quality of furniture upon which we work, rest, and spend all hours of the day should never left understated.
In particular, medical clinic furniture and aged care furniture make a big difference in ensuring that medical institutions run smoothly and efficiently, given the sensitive, sometimes uncomfortable nature of those facilities, whether in examination rooms, offices, lounges or waiting rooms. Having a space that feels pleasant and comforting can make all the difference in one's experience of treatment.
Thus, when it comes to furniture solutions for healthcare facilities, managers need to consider an array of factors in the selection process, including, but not limited to, ergonomics, durability, cleanability and aesthetics. 
NPS Commercial Furniture, located in North Queensland, is pleased to supply functional, aesthetic furniture solutions for healthcare facilities, locally. With over 50 years' experience in the industry and partnerships with leading Australian and International design brands, we've cultivated the enviable reputation of delivering premium grade, high quality furniture for healthcare facilities alongside unmatched customer service. 
Within this article, we'll touch on a number of effective, hygiene-conscious furniture solutions for healthcare facilities, the reasoning behind selection and how certain furniture is best used. 
What needs to be considered with furniture for healthcare facilities?
When it comes to medical clinic furniture or aged care furniture, you may be wondering "where do I start?", or "what is important for this kind of furniture?". Let's take a look at the four most important factors to consider when purchasing hospital or aged care furniture. 
Safety
Perhaps unsurprisingly, the first and most important factor that must be taken into consideration when identifying furniture to be used in healthcare facilities is safety. 
Commonly, people visiting hospital have physical injuries or may suffer from conditions such as obesity, which narrows down the scope of functional, applicable furniture. Chairs, for example, must be wide enough to be suitable for people of all sizes, and safe for those who do not have full control over their body.
Moreover, furniture with welting or piping should be avoided, as they represent great catch points for bacteria to grow in. If your seating has seams, make sure they're outward facing to minimize the opportunity for growth.
Cleanability
Given the level of risk in healthcare facilities and number of immuno-compromised or seriously ill people in close vicinity, it is important to minimise the chance of spreading diseases or harmful bacteria. 
And the best way to keep your furniture perfectly clean, is to buy furniture that's easy to clean. Healthcare seating should always include a clean-out space between the back and seat of the chair as this allows for easy cleaning. Moreover, materials like laminate are much easier to clean, compared to materials like wood. 
Durability
Medical clinic fitouts must be durable in order to reduce the frequency of germ spread, increase moisture resistance, and withstand wear from overuse in areas like the waiting room. Furniture with strong, durable materials should be used to appease all those inside.
Aesthetics
If medical clinic fitouts look sterile, cold, depressing, this can induce a physical or mental reaction in a patient and make them feel worse than they already do. By incorporating stylish furniture with warm, inviting tones, hospital managers can help to calm uneasy nerves or boost the morale of all guests.
NPS Commercial Furniture Solutions for Healthcare Facilities
So, we've discussed what's important for clinical settings, but where can you source such items? Luckily for you, NPS Commercial Furniture has access to a wide range of leading brands with plenty of furniture solutions for healthcare facilities. 
Our aged care tables, hospital chairs and other furniture's support the healing, health and comfort patients receive in your premises. To promote comfort while healing, we use health-specific fabrics and finishes for chairs and beds, as well as stock specialty chairs that meet the numerous unique needs of aged care facilities and medical clinics. 
Available in a two or three-seater style, the Martela Plus+ sofa offers a safe and comfortable lounge, delivering total support to its user with its high seat height, removable upholstery and moisture protection characteristics that are available. 
Blending versatility with the luxury of lounge seating, the Paris D7 is the ideal waiting room chair. The sharp edges of the arms and high back are complimented by the rounded shape of the chrome disc base, effortlessly combining aesthetics with comfort. You could also try the Annette D1 chair, blending quality contemporary design with total luxury.
From the moment you share your vision with us, we work tirelessly to make it a reality. Our focus on quality products that showcase the absolute best in design makes it easy to fit out your healthcare facility. What's more is, we offer a full service, meaning we can quote, purchase, and install our furniture solutions.
Contact our team today on 1300 889 194 to learn more!