Office Branding: Designing a Space That Speaks to Your Brand
by Wade Larkin on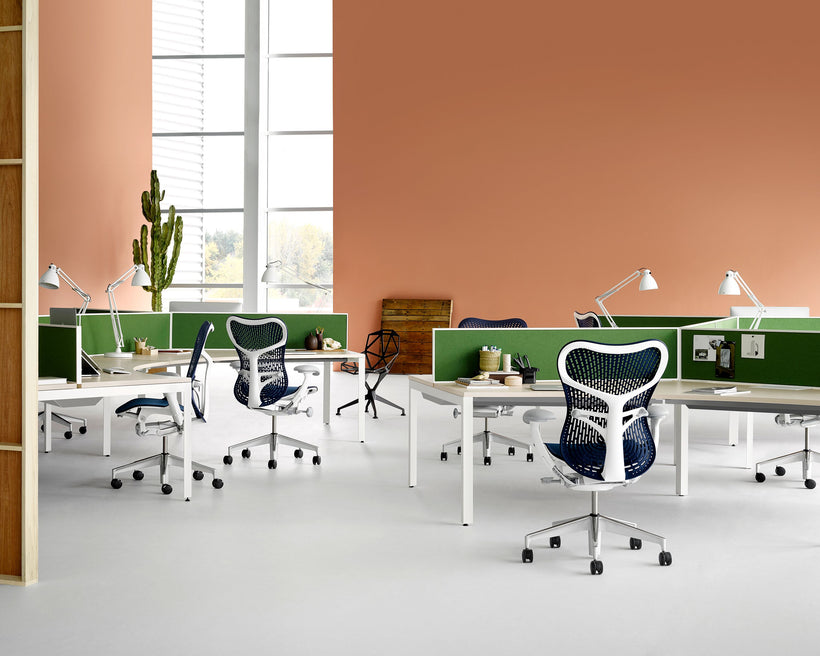 Just as your business needs to be clear in its communications, your office branding should offer a distinct demonstration of your company's personality and values. Whether you are managing the office space for a large corporation or have just invested in your first office, designing an environment that speaks to your brand is critical. Regardless of the industry you operate in; office branding should be at the top of your priority list for customer-facing spaces and staff facilities.
Here at NPS Commercial Furniture we offer a wide range of high-quality furniture in various colours, materials, and certifications to suit any brand look and feel. With numerous years of experience, our team are well versed in the art of office space design. Here are some of our top tips for seamlessly incorporating office branding across all of your touchpoints.
Why Is Office Interior Branding Important?
Whether you're running a business in the hospitality industry, or you're managing a large corporate organisation, customising a commercial environment to tell your brand's story is essential. Creating an office interior that visually aligns with your brand identity as well as with your core values helps your clients and staff cognitively connect your distinct brand character to the tangible space in which you operate. When executed in a sophisticated manner, branding is a subtle yet consistent way to differentiate your organisation from competitors.
How to Create Seamless Office Branding
From complete customised fit-outs to the addition of subtle touches, the art of office branding can effectively improve your overall brand positioning in the mind of both customers and employees.
Consider the Use of Colour  
No space is complete without a pop of colour. Office furniture that aligns perfectly with your brand palette is ideal. Commercial Furniture products in the market today, like +Halle, offer a wide range of contemporary furniture solutions in a host of captivating colours for office spaces of all sizes. Highlights and complementary colours are perfect for accessories that enhance the room and help your brand colour palette pop. 
Feature walls and wall decals are also an effective way to add colour to your space, creating a cohesive alignment between your brand and business environment and are a low-cost investments that can be regularly updated as your brand evolves. 
Align Brand Values to the Space
Whether you've just opened a café or restaurant, resort or an office space for a large corporation, the space should subtly communicate your brand values. The layout is one way that your business can effectively communicate your brand story.
If your business is a restaurant that values shared meals and fosters a social atmosphere, incorporating large communal tables, round dining tables or comfortable hospitality chairs & stools can create an inviting atmosphere where patrons can enjoy food with friends.
Your company may be a large corporation seeking to minimise its environmental footprint, for you environmentally conscious furniture is a great option. Products like the EONA Boardroom Table are timeless pieces crafted with recycled materials, including 100% recycled adjustable aluminium legs that you can feel proud to have in your space.
Select Relevant Materials
First impressions that prospective consumers, employees or investors receive from your business are most likely to last. Put your best foot forward in the office, café, resort or restaurant by selecting materials that reflect your brand and the mood you want to create upon the first impression. 
An eco-friendly cosmetic brand may opt for wooden furnishing and crisp, white accessories accompanied by plenty of greenery and healthy plants. On the other hand, a leading technology group may prefer sleek metal and glass furnishings to communicate their cutting-edge and innovative qualities. Regardless of the industry your business operates in, be conscious of the atmosphere created with the materials you choose, furnishings and, of course, the attitude of employees.
Solidify Brand Perceptions with NPS
Multi-functional and versatile, NPS Commercial Furniture solutions aim to assist businesses seamlessly align their brand values and personality to the office branding. Our collection of furniture is renowned for integrating into a variety of commercial and hospitality fit-outs. Servicing all of North Queensland, NPS Commercial Furniture can quote, supply and install high-quality furniture to your business environment. We are a supplier with exclusive access to leading international and Australian brands.
To find out more about how we help businesses boost their locations' ambience, contact us today. Alternatively, you can visit one of our showrooms to see first-hand how our focus on quality translates to chic and versatile commercial solutions across Cairns, Mackay, Charters Towers, Mount Isa and Rockhampton.